San Jose Earthquakes and HFSV
We are excited to partner with the San Jose Earthquakes on June 25, 2022 for the Cali Clásico! Join us at Stanford Stadium to watch the San Jose Earthquakes take on the LA Galaxy while supporting HFSV. For every ticket bought through our link, HFSV will receive a portion of the ticket sales. To purchase tickets, click here. We can't wait to see you there!
---
Education Excellence
STEM for Success Innovation Panel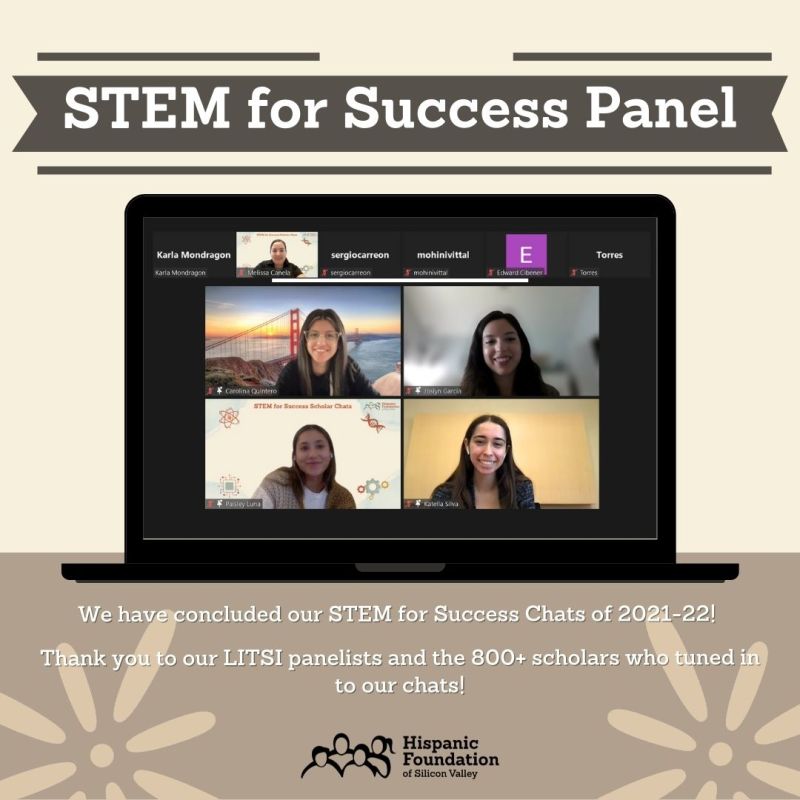 This month we wrapped up our scholar chat series with our STEM for Success Innovation Panel. Two of our LITSI alumni, Joslyn Garcia and Carolina Quintero, spoke to over 800 TFHE high school students. They shared their experiences working in the tech industry and talked about how they overcame some of the challenges they faced as a Latina in STEM.
From internships at Disney and NASA to working frontline at COVID vaccine clinics, these two women have led interesting and impactful careers in STEM thus far. We're excited to see where their careers take them and are grateful they took the time to share their experiences with the next generation of students.
We look forward to more STEM for Success Scholar Chats in the 2022-23 school year. To learn more about LITSI, click here.
Spring 2022 | Parent Education Academy Graduations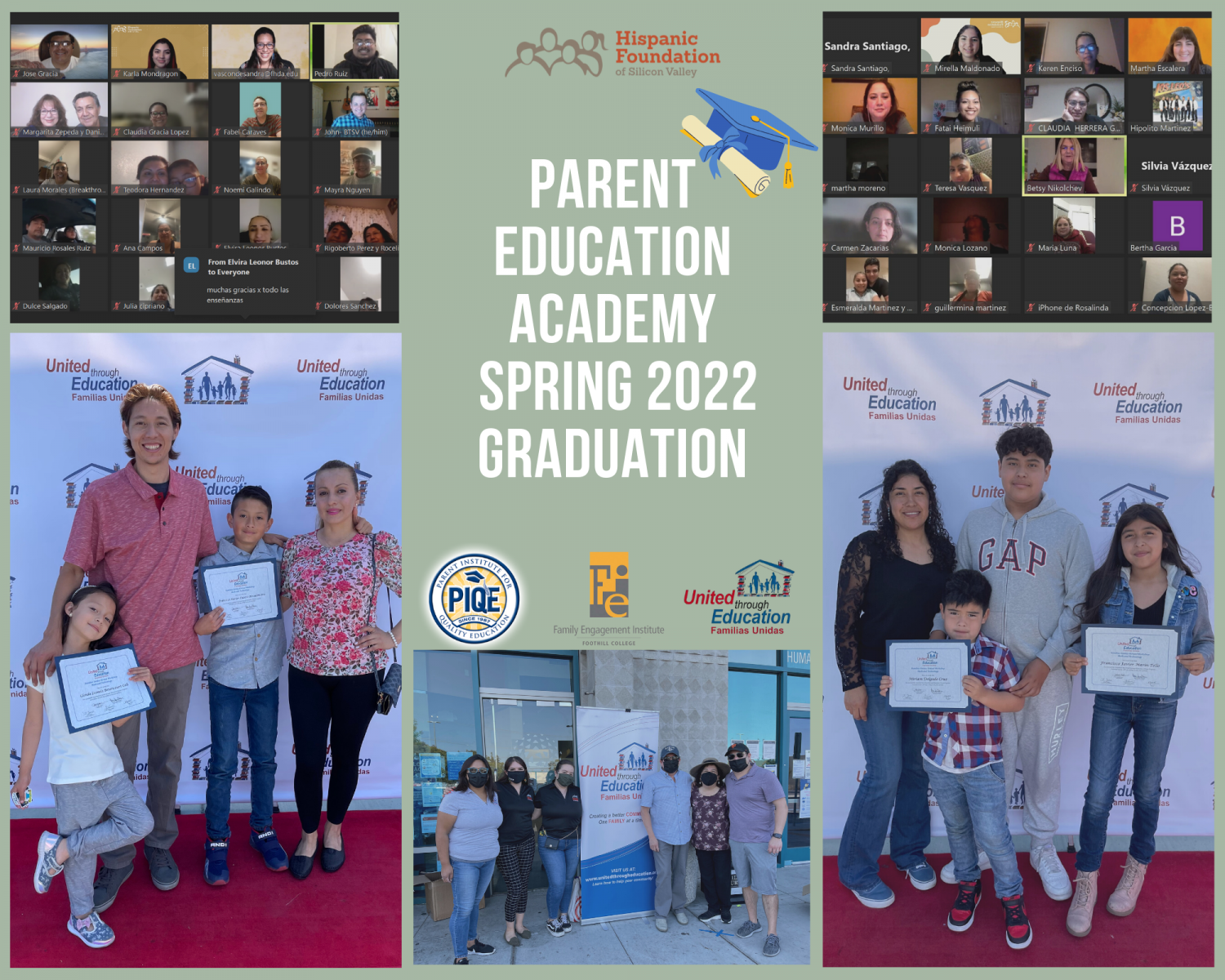 This month of May we celebrated over 225 dedicated parents who graduated from our Parent Education Academies! The parents participated in different courses provided by Family Engagement Institute (FEI) at Foothill College, Parent Institute for Quality Education (PIQE), and from Familias Unidas – United Through Education. We are very proud of the commitment our parent participants have to obtain the tools to support their children and set them up for their academic success.
Through our academies, parents increased their knowledge and skills on a range of topics to support and engage in their student's educational journey such as: preparing a roadmap to college, identifying educational and community resources, understanding online technology, STEM curriculum and more! These courses also help bridge the gap between parents and educational institutions, so that parents can work together with their students, teachers, and school leaders to create a strong support system.
To learn more about our parent education academies, click here.
Girls Who Code Club Graduations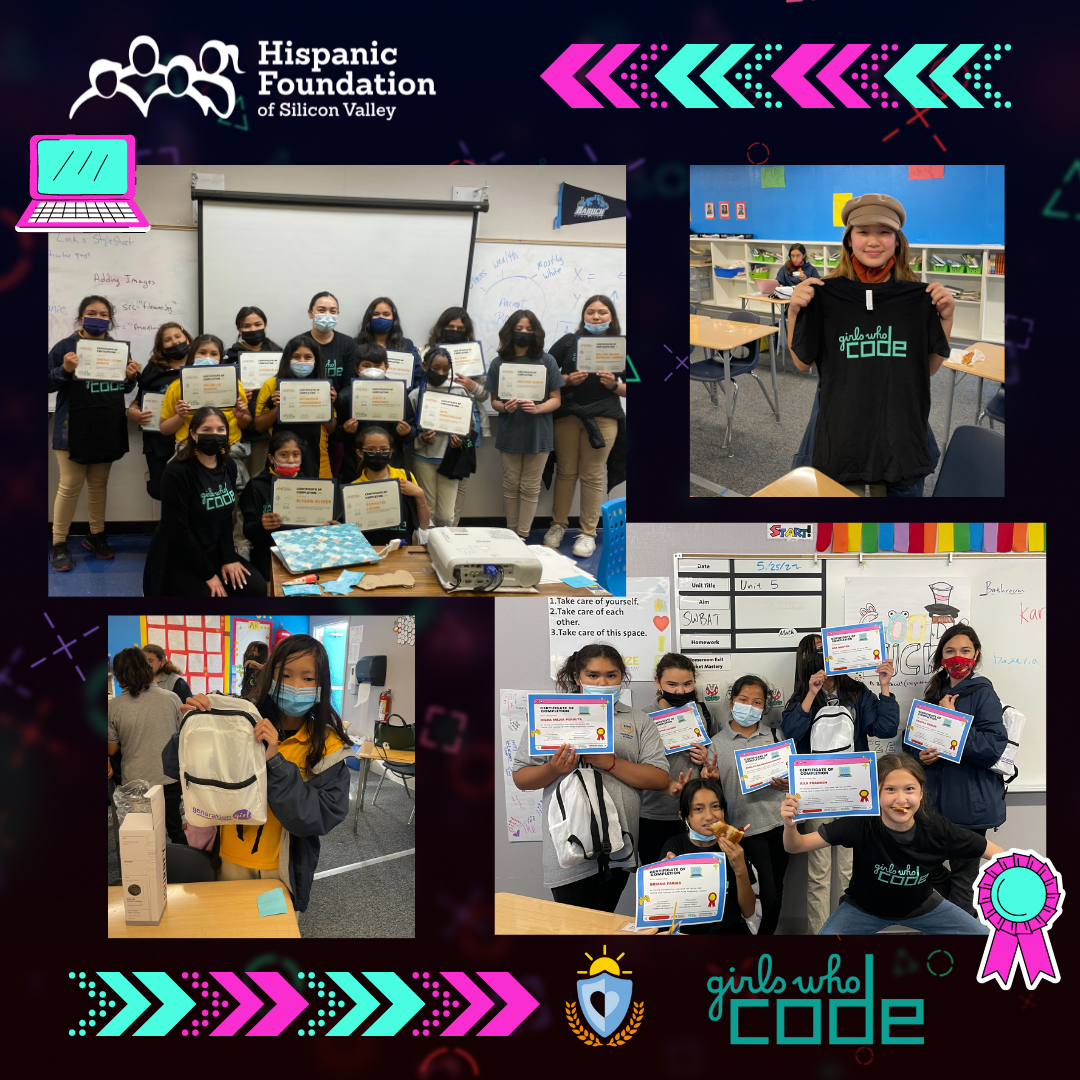 Learning to code empowers young girls to spark curiosity and creativity, to lead, and to explore STEM career paths in the future. We are delighted to share that this month we had 51 girls who graduated from our Girls Who Code clubs! The clubs were held in person and virtually in both Santa Clara County and San Mateo County.
As many schools moved programming back to in- person, we are happy to share that two of our clubs held at KIPP Valiant and KIPP Prize were facilitated in-person. The girls learned directly from successful Latinas in STEM, learned the concepts of coding, and worked on their own coding project which they shared at their graduation. Our coding clubs also aim to increase access, and gender/ethnic representation in STEM fields.
We have year round opportunities available for college students to facilitate our Girls Who Code clubs. Prior coding experience is not required. Facilitators receive a $400 stipend per club and the opportunity to serve as a role model for young girls. If you are a woman of color who is majoring in STEM and have interest in this paid volunteer opportunity, click here to sign up.
---
Leadership Development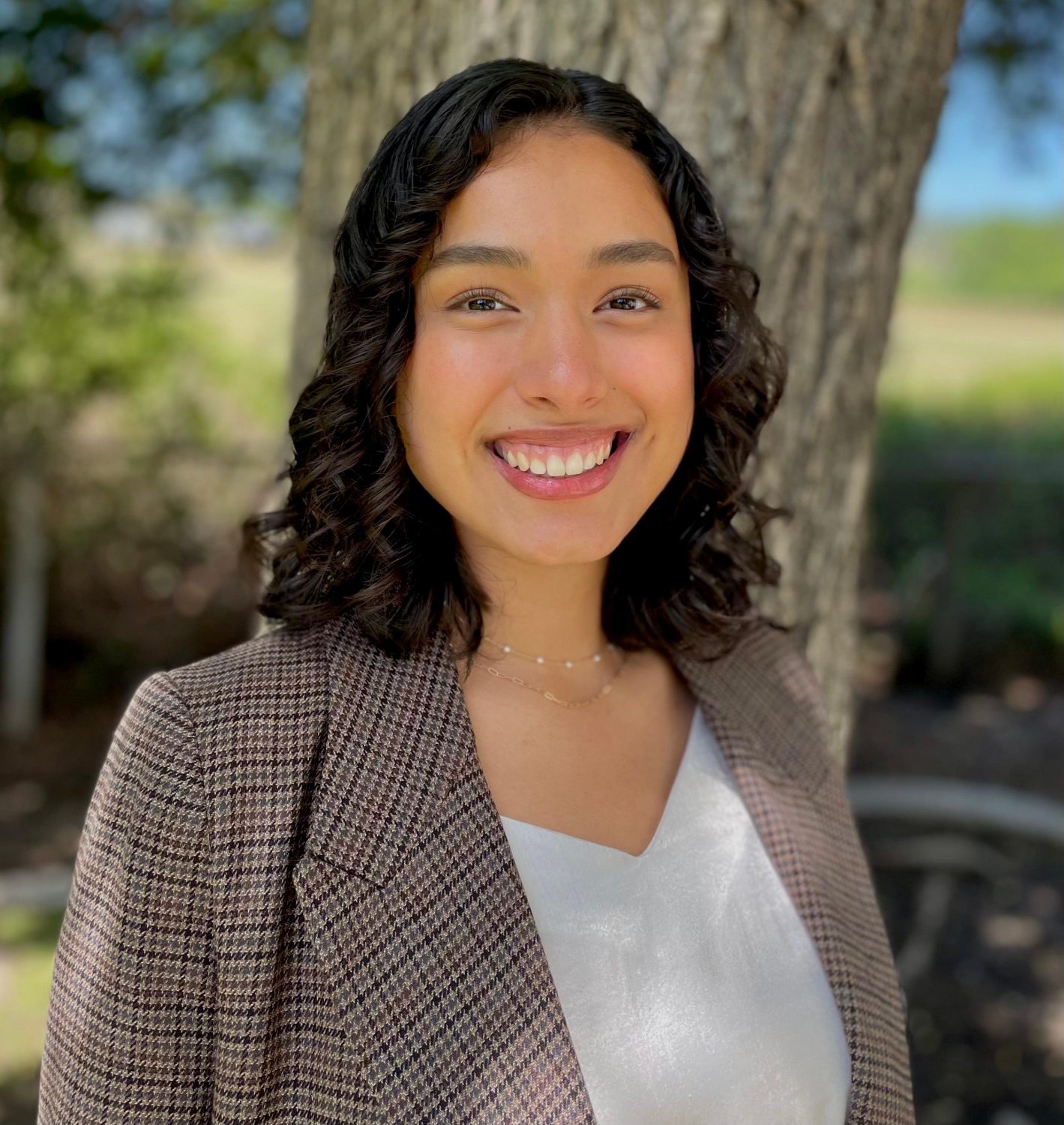 Class XXI of the Latino Board Leadership Academy will be wrapping up in the next few weeks. But first, fellows will have the opportunity to talk with different local nonprofits that are currently recruiting new board members next week during Nonprofit Board Match Nights.
While Nonprofit Board Match Week is full for LBLA Class XXI, we'll be looking for more nonprofit organizations to come and share their missions with a group of qualified, diverse candidates for class XXII. If you are a nonprofit organization interested in participating in future Nonprofit Board Match Weeks, click here for more information.
Last month we highlighted Marc Victor who joined the board of Saved By Education. We are excited to announce that he has also been accepted to sit on the board of Prospanica Silicon Valley. Additionally, Dr. Crystalynn Rodriguez and Marieli Rubio, who is a former LITSI scholar, are also joining the Prospanica Silicon Valley board. We look forward to seeing the impact they will have in this new role.
If you are interested in joining LBLA Class XXII, please fill out the inquiry form by clicking here to receive an email when the LBLA application cycle opens. To learn more about LBLA, click here.
---
Convening & Engaging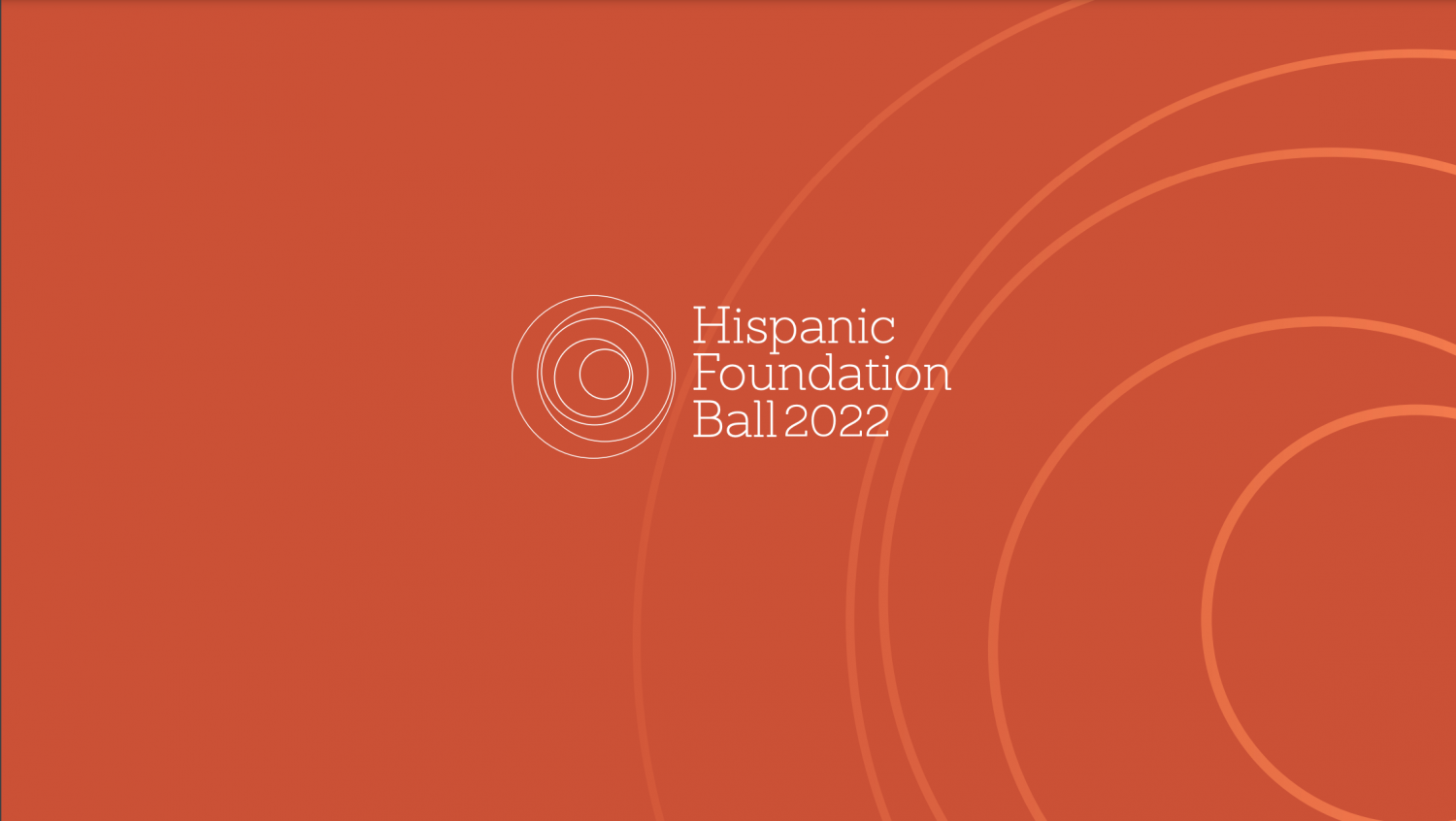 The 33rd annual Hispanic Foundation Ball is less than five months away. We are excited to unveil our new logo for the Ball as we prepare for our biggest event of the year. We are grateful that Silicon Valley Bank will once again be the presenting sponsor for the Hispanic Foundation Ball.
This month seven more sponsors committed their support to the Hispanic Foundation Ball. We are grateful for the support of Applied Materials, Chavez Family Foundation, Intel, Paypal, San Francisco State University, and University of California, Santa Cruz. Please email Clara Roa (clara@hfsv.org) to learn more about becoming an event sponsor.
Mark your calendars and be sure to join us on Saturday, October 15, 2022 for the 33rd annual Hispanic Foundation Ball. We cannot wait to gather in person at the Signia by Hilton Hotel in downtown San Jose to celebrate the successes of the Latino community and the work of the Hispanic Foundation of Silicon Valley.

---
The Hispanic Foundation of Silicon Valley depends on donations from individuals like you. With your involvement, we are addressing the needs of the Latino community, expanding the philanthropic pie, and increasing our charitable impact.