We are hiring! We are excited to announce that we are expanding our team at the HFSV. We are looking to hire driven and enthusiastic individuals to join our team as a Marketing & Communications Associate, an Alumni & Impact Relations Lead, and a Fund Development Associate. To learn more about these positions and to apply, click here.
---
New Board Member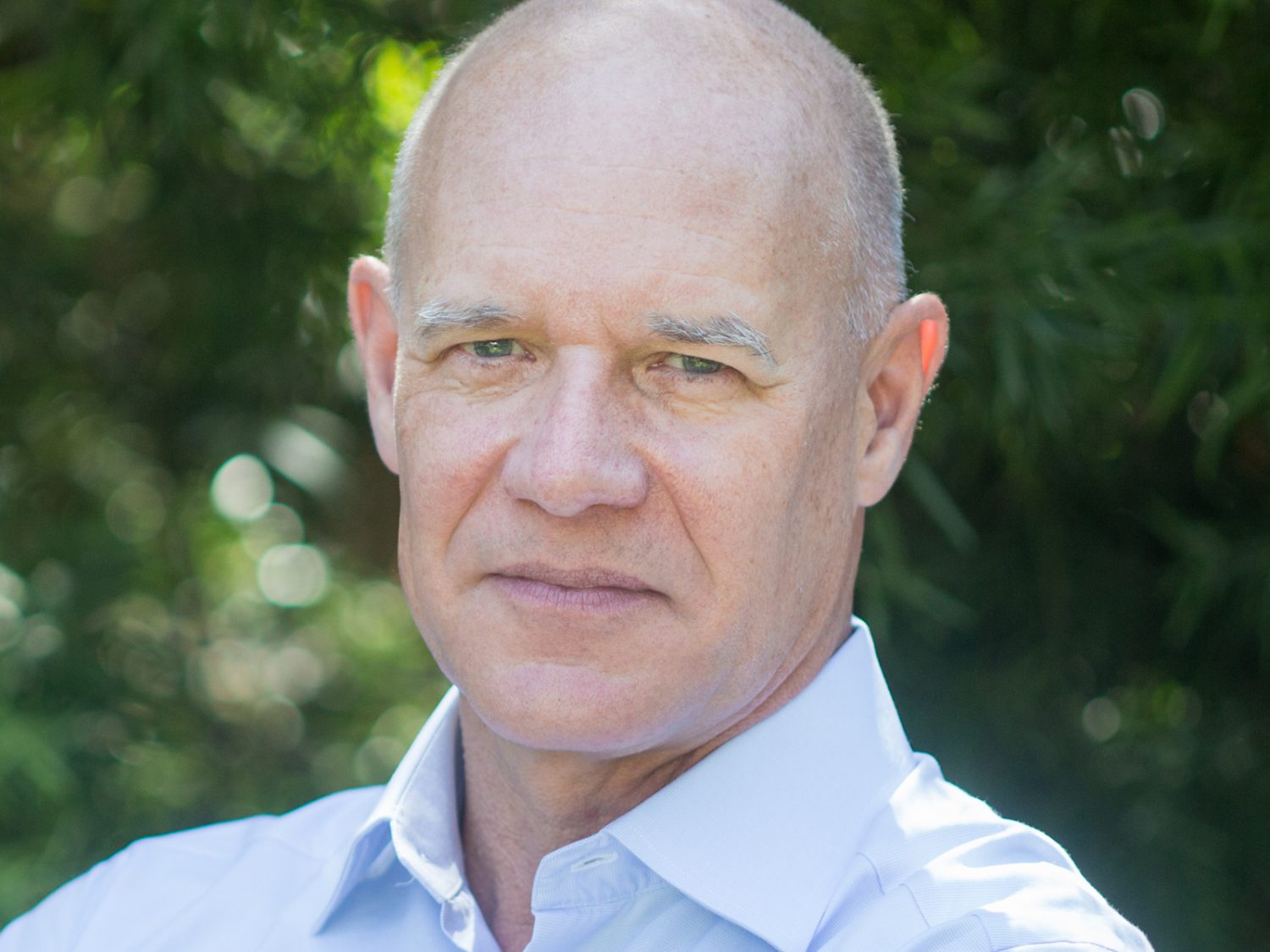 Stephen Adams joined our Board of Directors last month. As a long time resident of the Bay Area, Steve currently operates a solo law practice. He has held roles within the public sector at the Santa Clara District Attorney's Office and private sector at Orrick Law Firm and Applied Materials. We are looking forward to seeing the impact he can make on the Hispanic Foundation during his time as a board member. To read more about Stephen Adams, click here.
---
Education Excellence
STEM for Success Scholar Chats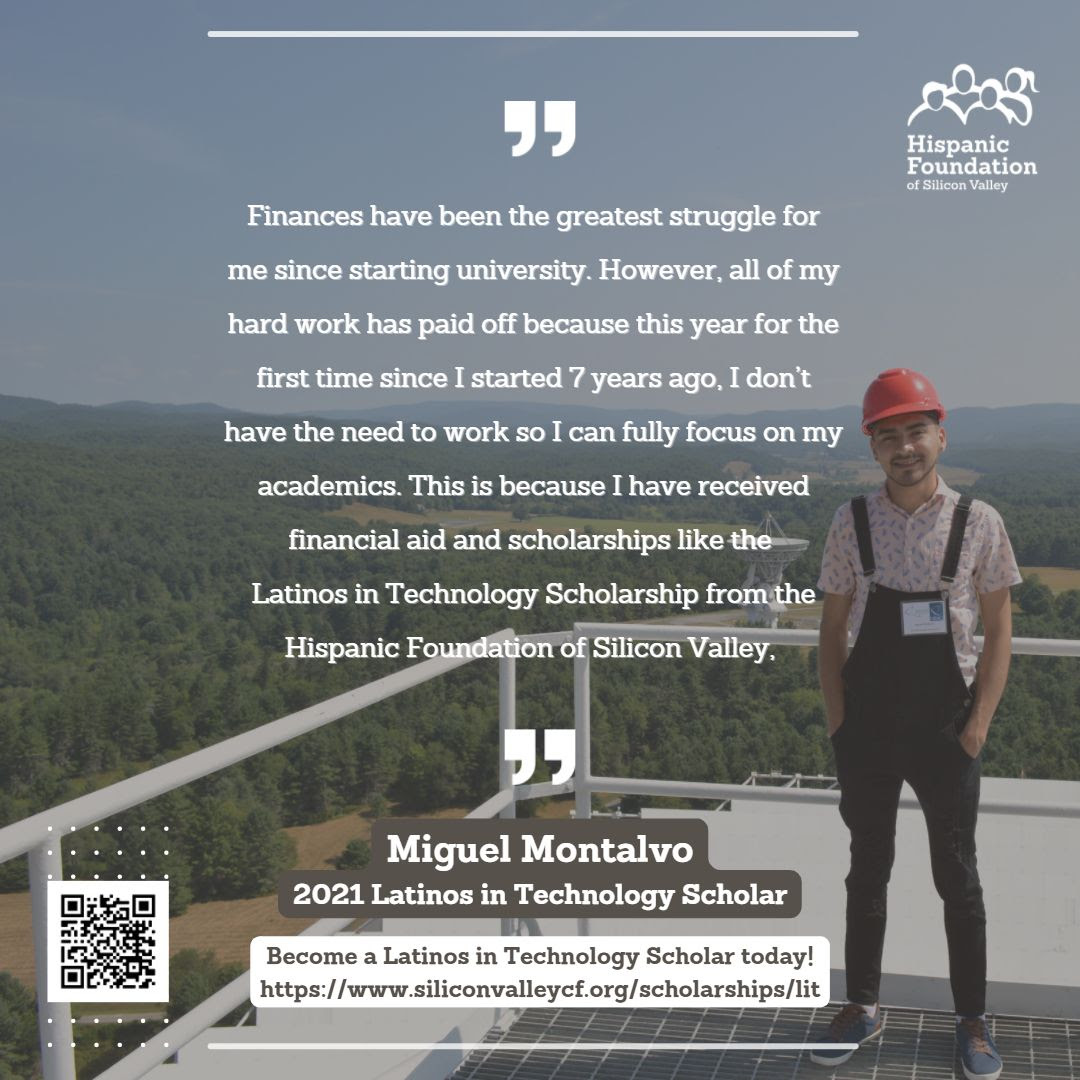 In our STEM for Success Scholar Chat series, past Latinos in Technology scholarship recipients share their personal experiences about pursuing a STEM degree and a STEM career with current high school students. Students have the opportunity to ask questions and gain insight on the process that it takes to become a Latino in STEM.
Last month, Miguel Montalvo shared his experiences about navigating the education system to pursue a degree in Engineering Physics. Originally from El Salvador, Miguel moved to the United States to go to college. He worked full time while attending community college for three years before transferring to UC Berkeley. After earning his degree, he hopes to attend graduate school to continue his studies with the eventual goal of working for NASA. To read more about Miguel's story and watch the full chat, click here.
Girls Who Code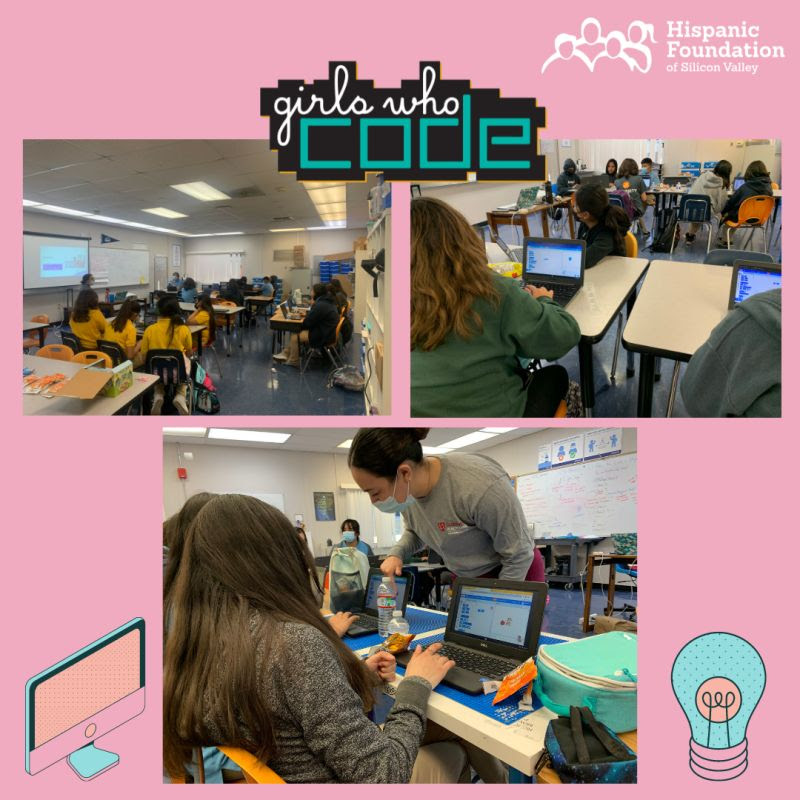 This month, we hosted our first ever in-person Girls Who Code class at KIPP Valiant Community Prep in San Mateo County. 25 bright young girls joined the class which was led by our female Latinos in Technology scholars. Our coding club aims to increase access and gender/ethnic representation in STEM fields.
We are always looking for more college students to facilitate our Girls Who Code classes. Girls Who Code facilitators receive a stipend of up to $400 per club and the opportunity to serve as role models for young students. If you are a woman of color with a background in STEM interested in a volunteer opportunity to teach coding, click here to sign up
Hispanic Foundation College Success Program: Parent Workshops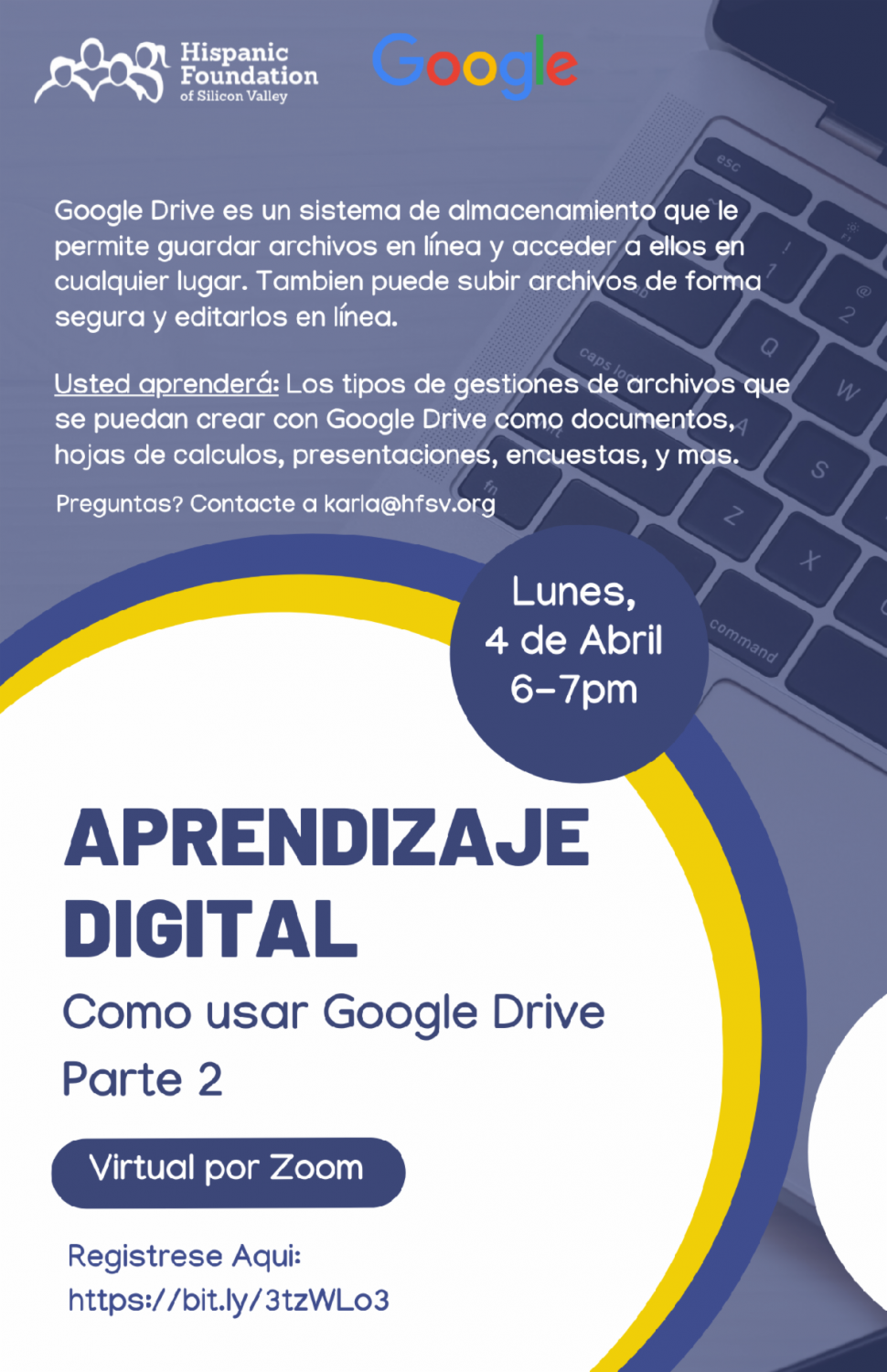 In the month of April, we are offering two workshops in Spanish for parents and their high school students. On April 4 from 6 to 7 pm: "How to Use Google Drive – Part 2 (Aprendizaje Digital: Como Usar Google Drive Parte 2)". On April 6 from 6 to 7 pm: How To Choose the Right University for You (Cómo Elegir la Universidad Adecuada Para Ti). For more information about these workshops, please send a message to Karla Mondragon (karla@hfsv.org).
We look forward to the expansion of our in-person offerings in the coming months and to continue hosting classes that will inspire the next generation of Latinos to pursue a career in STEM. To learn more about our education excellence initiative click here.
---
Leadership Development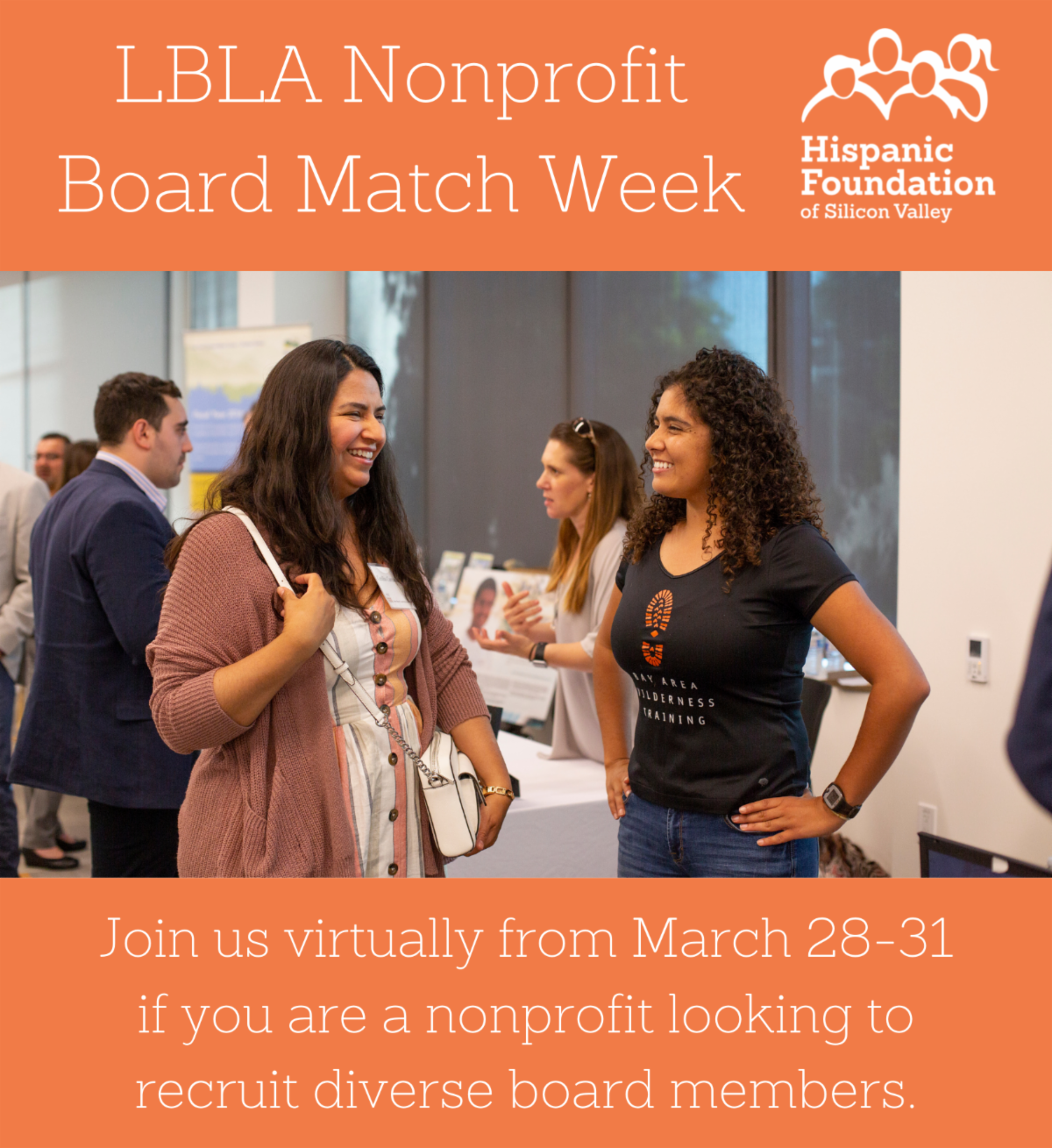 Applications for Class XXI of the Latino Board Leadership Academy are officially closed. We are excited to welcome a cohort of 39 new fellows who are determined to make a difference in our community.
If you are a nonprofit organization seeking to expand your board with diverse and qualified candidates, click here to learn more about Nonprofit Board Match Week. To learn more about LBLA click here.
If you missed out on the LBLA Class XXI application cycle, be on the lookout for the next LBLA application period. To receive an email about when the LBLA Class XXII application will open, please fill out the inquiry form by clicking here.
---
Convening & Engaging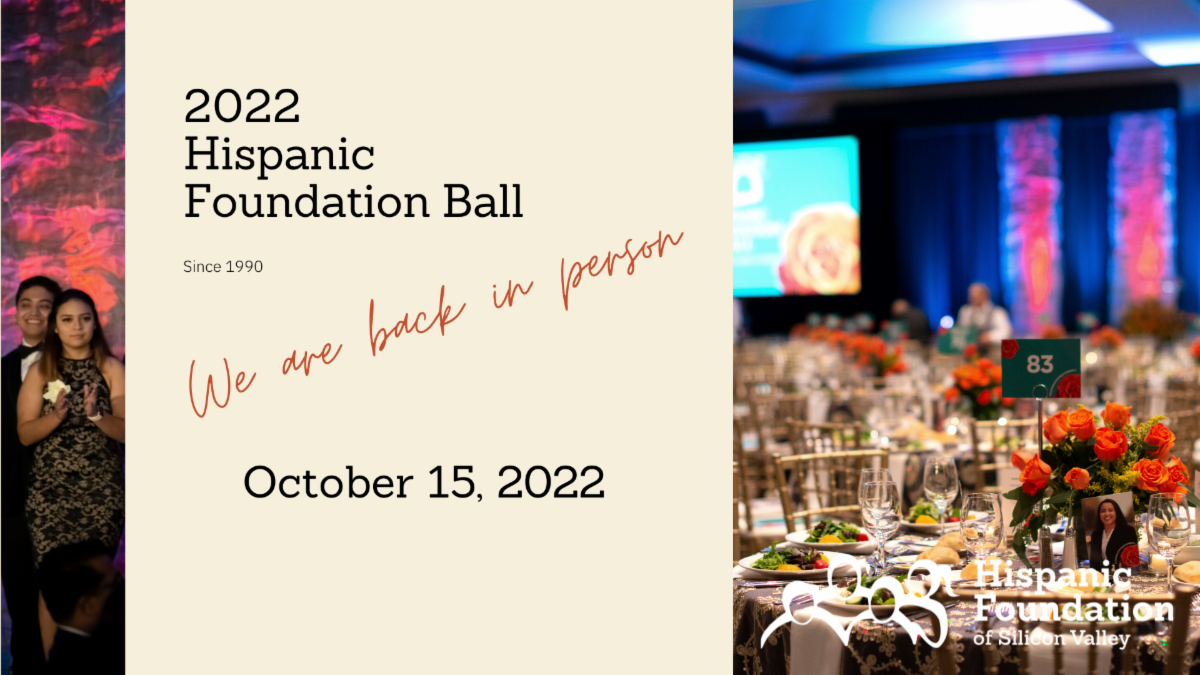 For the first time in over two years we will gather in person to celebrate the successes of the Hispanic community at the Hispanic Foundation Ball. The Ball will take place on Saturday, October 15, 2022 at the Signia by Hilton Hotel in downtown San Jose.
We have officially kicked off the sponsorship season for the Hispanic Foundation Ball. Special thanks to US Bank, Summerhill Housing Group Isaura Gaeta, Stuardo and Laurette Robles, and Stephen Adams for being our first sponsors for the 33rd annual Hispanic Foundation Ball. Please email Clara Roa (clara@hfsv.org) to learn more about becoming an event sponsor.
Mark your calendars now for Saturday, October 15, 2022.

---
The Hispanic Foundation of Silicon Valley depends on donations from individuals like you. With your involvement, we are addressing the needs of the Latino community, expanding the philanthropic pie, and increasing our charitable impact.