Newest Members of our Team! 
This past month, we welcomed two new team members to the Hispanic Foundation of Silicon Valley Familia: Gisela Angulo-Avellaneda as Marketing and Communications Associate and Annisa D. Basaldua as Fund Development Assistant. 
We look forward to Gisela and Anissa's many contributions to our organization.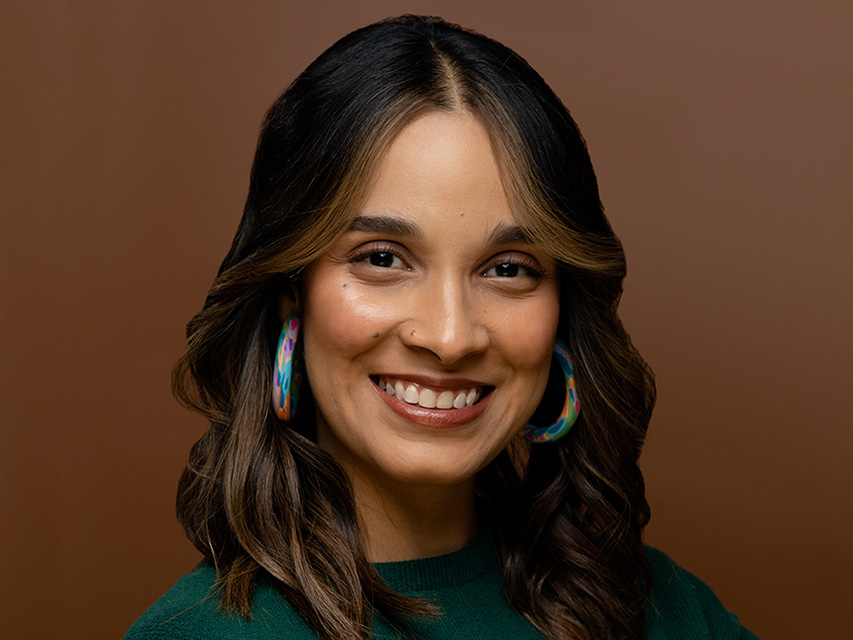 Gisela is responsible for creating content, managing ongoing communications, and supporting HFSV's Strategic Fund Development needs aligning with our mission. 
Gisela is a native of Bucaramanga-Colombia and has lived in California for over three and a half years. To learn more about Gisela, click here.
Annisa provides general administrative and programs support for the HFSV Development department.
Anissa is a native of San Jose, California but shared time growing up with her family in the town of strawberries, Watsonville, California. To learn more about Anissa, click here.
---
Farewell to our Santa Clara University Leavey School of Business Community Fellows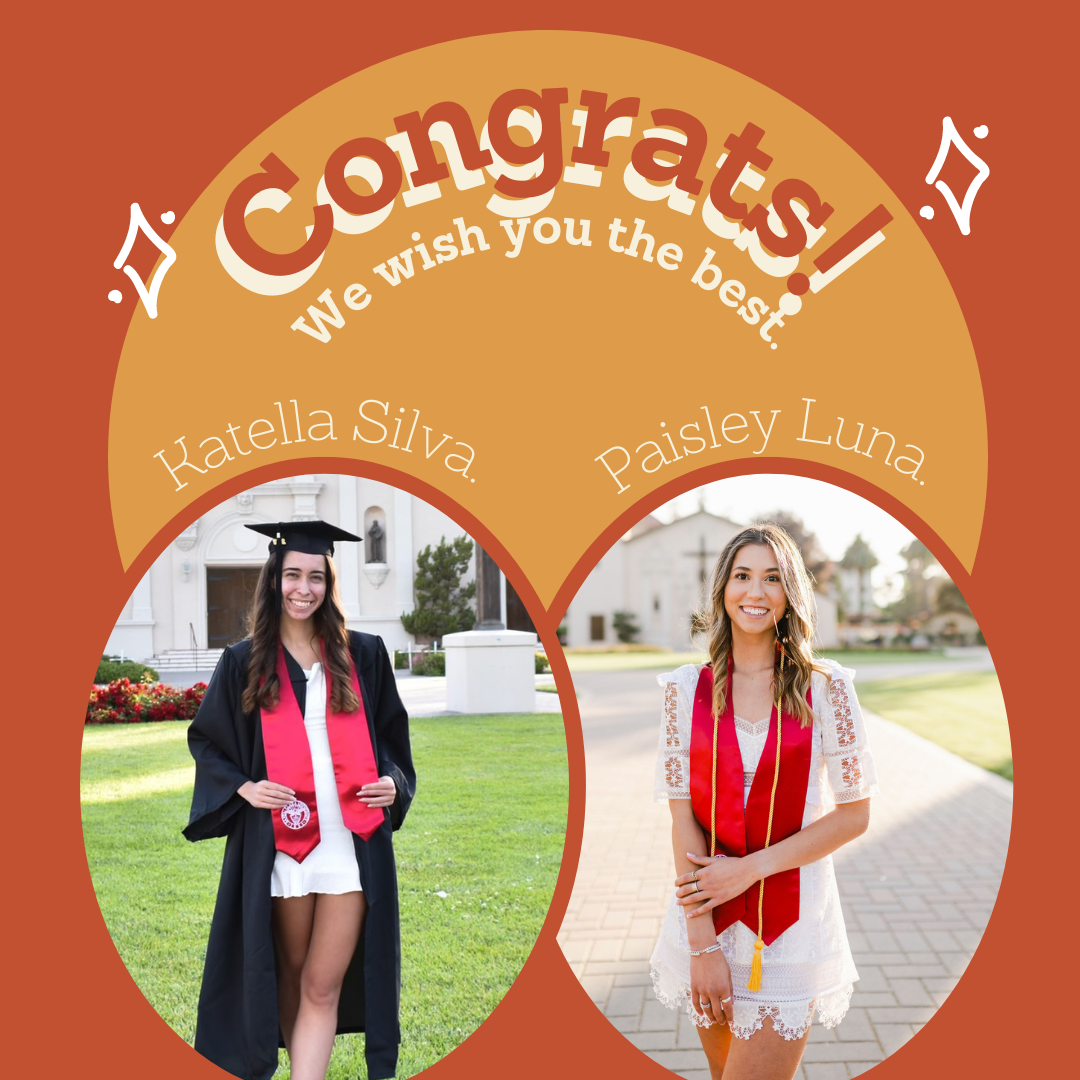 This month we said goodbye to our Santa Clara University business school fellows, Katella Silva and Paisley Luna.
Katella was the Fund Development Fellow. She supported the team with grant proposals and fundraising campaigns, our annual report, and our second virtual Hispanic Foundation Ball. Katella graduated from SCU with a Bachelor of Science in Commerce in Business Management and Psychology. 
Paisley was the Education Programs Intern in the HFSV Programs Team. During her time with HFSV, Paisley spearheaded education programs' content creation and program implementation support. Paisley launched our first-ever Latinos in Technology online resource portal, which streamlines internship + job opportunities, professional development events, and STEM-based resources for LITSI scholars. Paisley graduated from SCU with a Bachelor's Degree with a major in Marketing and a minor in Spanish and International Business. 
Special thank you to the Leavey School of Business Community Fellowship Program Team at Santa Clara University for their dedication to this impactful program– and cheers to Katella and Paisley!
---
San Jose Earthquakes and HFSV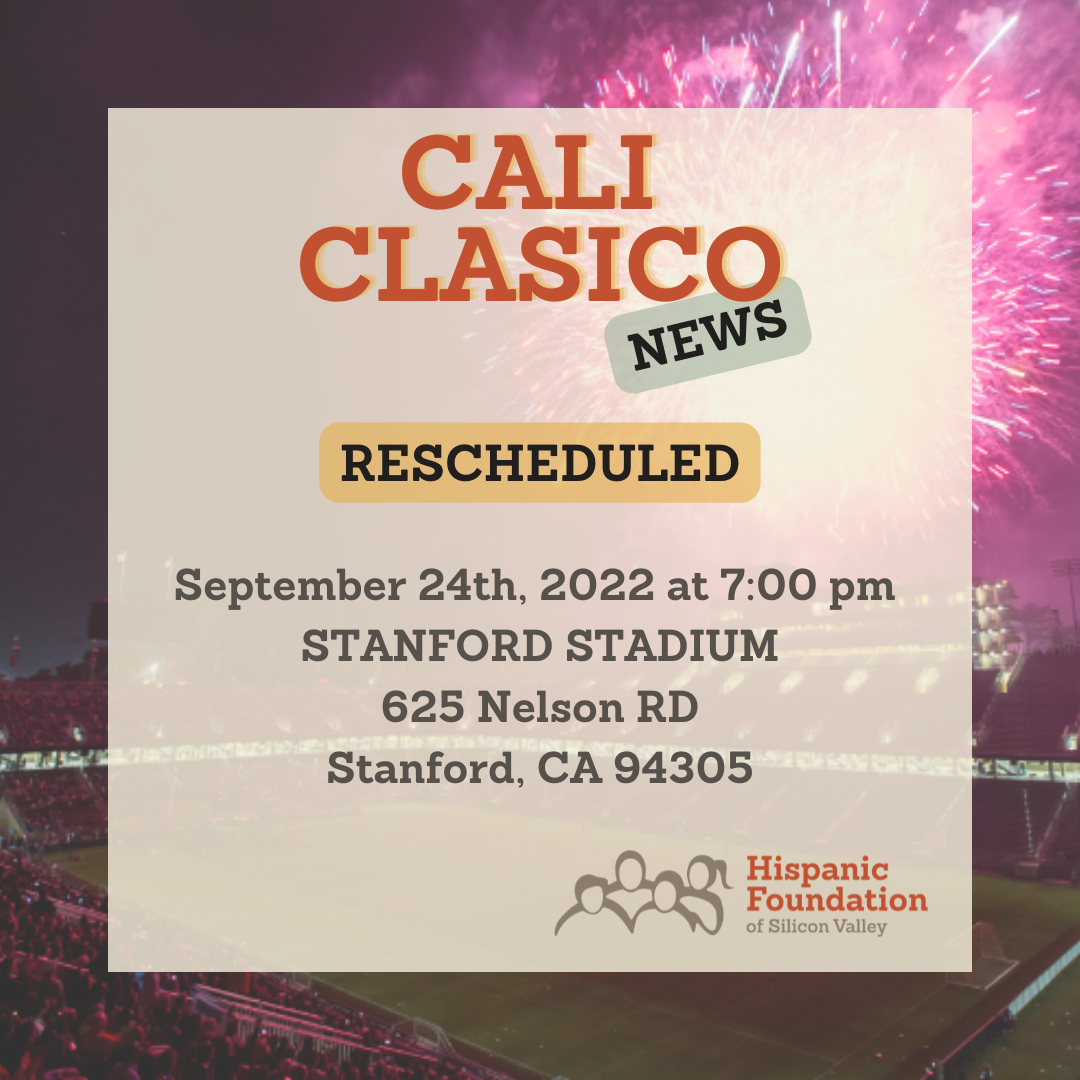 Due to the Edgewood Fire, the Cali Classico game has been rescheduled to Saturday, Sept 24th, 2022.
We hope you can join us on the new date. If you are interested in joining the HFSV team that day, please email clara@hfsv.org.
We can't wait to celebrate the California Clasico with you!
---
Education Excellence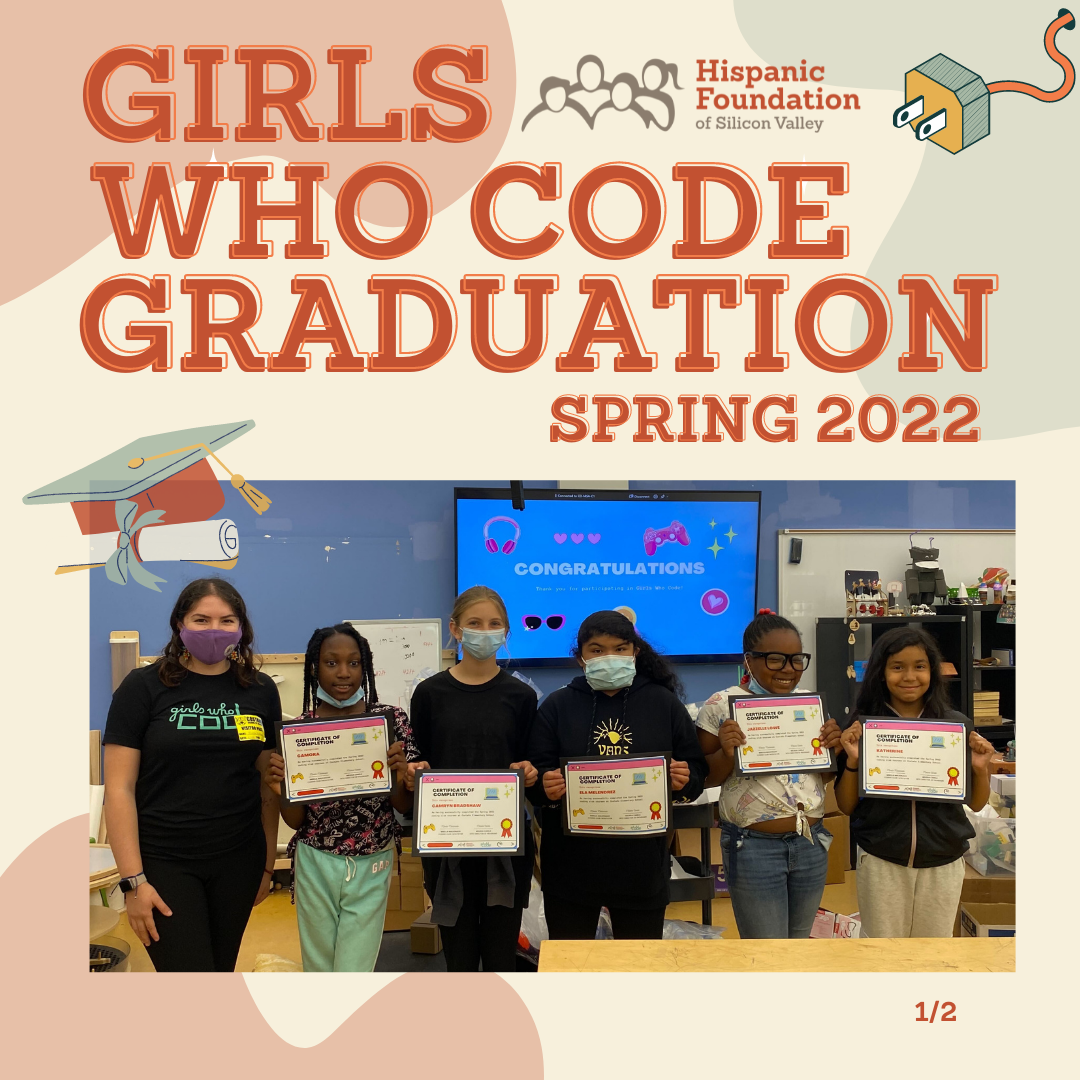 Wrapping Up the 2021-2022 School Year
All our Parent Education Academies and Girls Who Code clubs wrapped up this month! We are very proud of our community's dedication to their learning.
For the first time, we incorporated 4th graders into our coding clubs. Congrats to the outstanding girls from Costaño Elementary School in the County of San Mateo who completed our 8-week in-person club and presented innovative projects at graduation!
These fourth and fifth graders excelled using their creativity, coding skills, and curiosity to develop fun digital projects using the coding curriculum they learned throughout the program.
Our CODING CLUB aims to increase access and gender/ethnic representation in STEM fields. We have year-round opportunities for college students to facilitate our Girls Who Code clubs. Facilitators receive a $450 stipend per club and the opportunity to serve as role models for young girls. Prior coding experience is not required.
If you are a woman of color majoring in STEM and are interested in this paid volunteer opportunity, click here to sign up.
---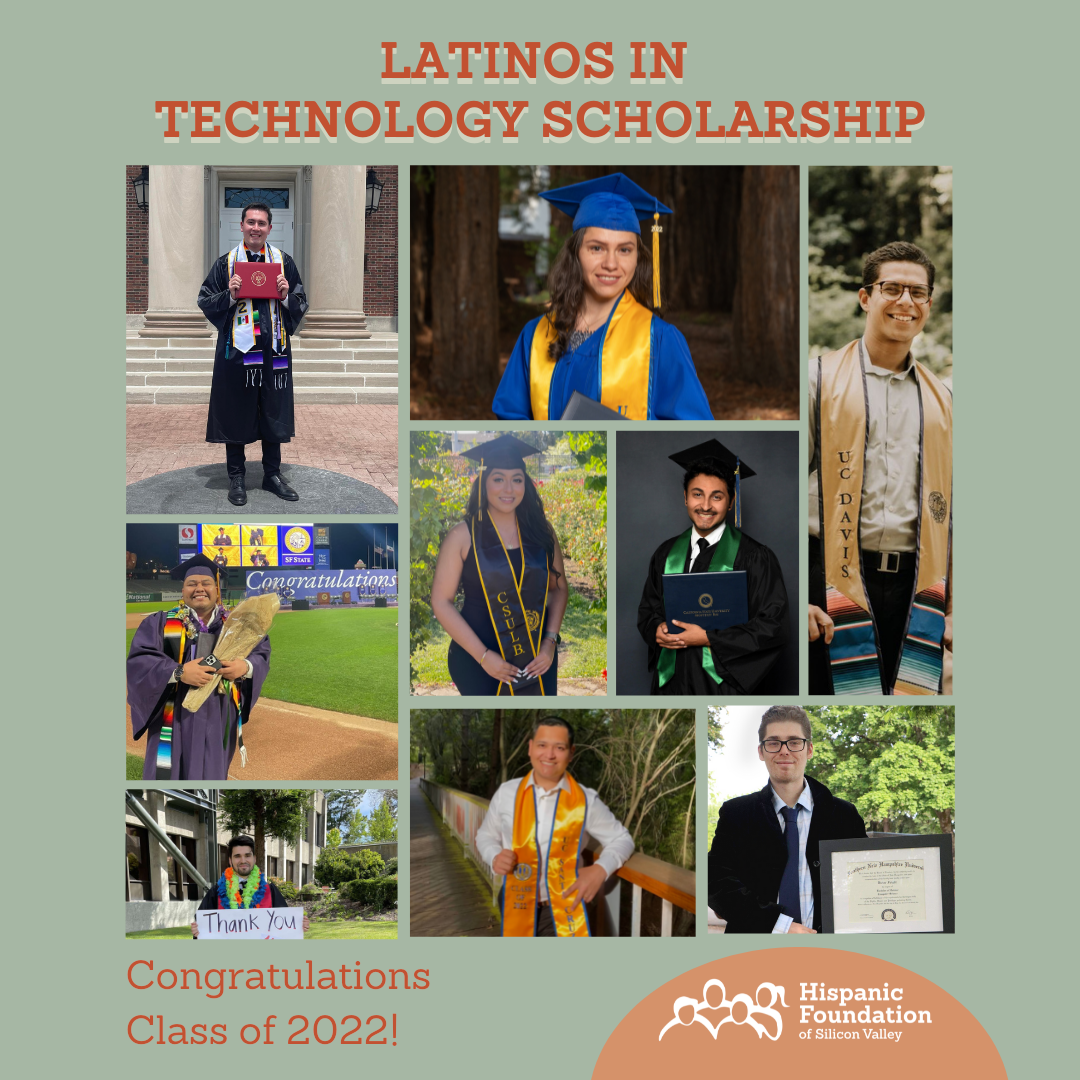 Latinos in Technology Scholars 2022
Congratulations to all our Latinos in Technology Scholars who graduated with STEM degrees this Spring! 
96% of our scholars graduate with STEM degrees all over the country, and 86% of them land their first STEM career upon their college graduation
We are also very excited to welcome our 2022 cohort of Latinos in Technology scholarship recipients this month! 
This summer, 52 new Latinx STEM scholars will join HFSV and participate in our LITSI Professional Development Series. Stay tuned!
Are you interested in supporting our LITSI scholars? Become a Conexiones Mentor! We are looking for STEM professionals who would like to mentor our LITSI scholars through our 5-month program. For more information, click here.
---

We are excited to jump into the new 2022-2023 programs starting strong with several summer programs that serve every stage of our Cradle to Career Model. This summer, we will continue working with K-8 math, and literacy skills through our partners Elevate Math and Springboard Collaborative.
HFSV will also host a three-week summer college readiness Bootcamp that focuses on writing skills for college applications. Additionally, our HFSV parent network will be able to participate in a four-week PIQE course, Bridge to College, that supports students and families in the transition from high school to college. 
If you are interested in our K-12 programs please contact Karla Mondragon at karla@hfsv.org
---
Leadership Development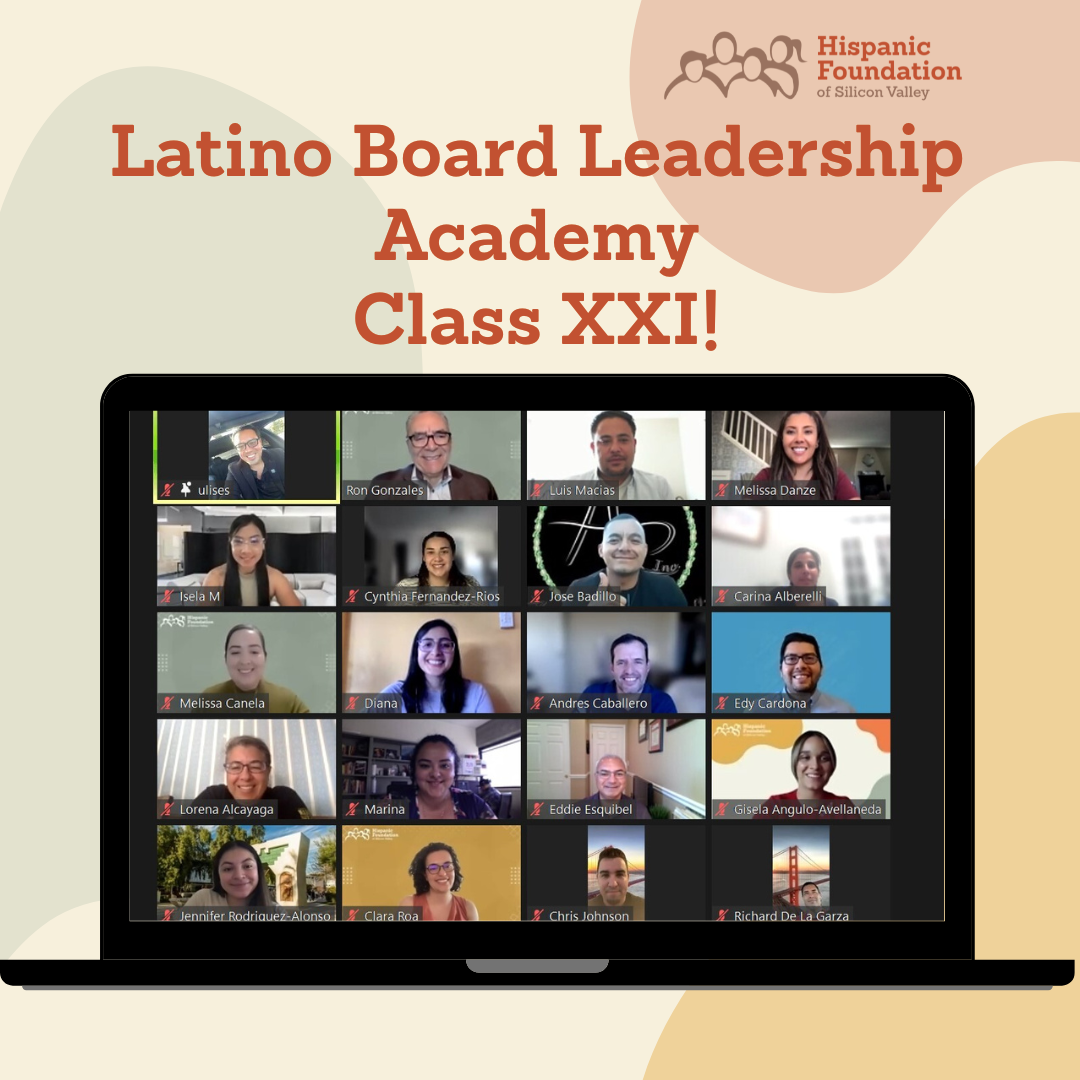 Latino Board Leadership Academy Graduation
Class XXI of the Latino Board Leadership Academy (LBLA) graduated on June 15th, 2022. We congratulate 19 Latinx professionals who completed the 10-week program and joined a network of over 530 senior fellows. LBLA'ers seek to serve as nonprofit board members and lead by example.
We are proud of all the Latinxs Professionals creating change for our Latinx community in Silicon Valley!
If you are interested in recruiting one of our fellows for the Board of your nonprofit, please contact Margarita DeAvila at margarita@hfsv.org.
---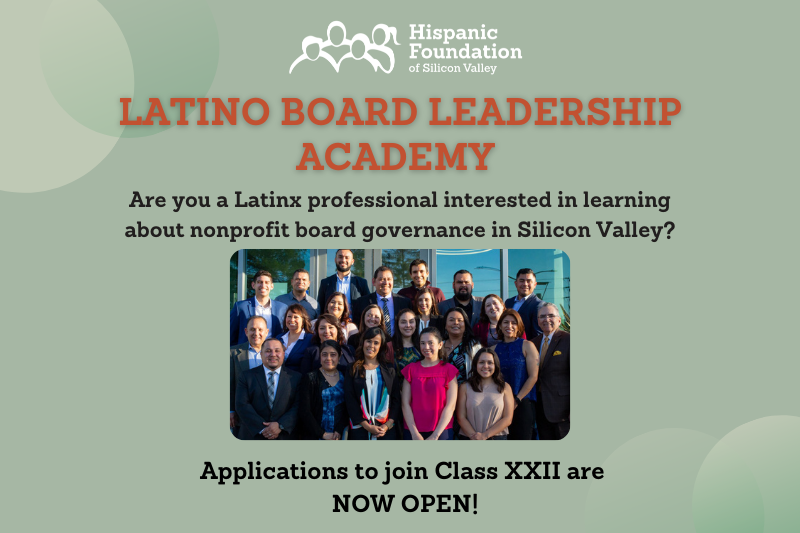 Join our Latino Board Leadership Academy today! 
The Hispanic Foundation of Silicon Valley is thrilled to announce that we are now accepting applications for the Latino Board Leadership Academy (LBLA) – Class XXII.
This 10-week academy trains Latinos how to serve in leadership roles as board members of nonprofits in Silicon Valley. It helps to develop skills as a leader, integrates cultural competence, and connects you with a network of over 530 like-minded Latinx individuals across Silicon Valley.
If you are a Latinx Professional and want to learn about nonprofit board governance, we invite you to join our Latino Board Leadership Academy!
The application deadline is Friday, July 8, 2022, until 5:00 pm.
We have limited seats available, and we encourage you to apply as soon as possible.
Questions? Contact office@hfsv.org
---
Convening and Engaging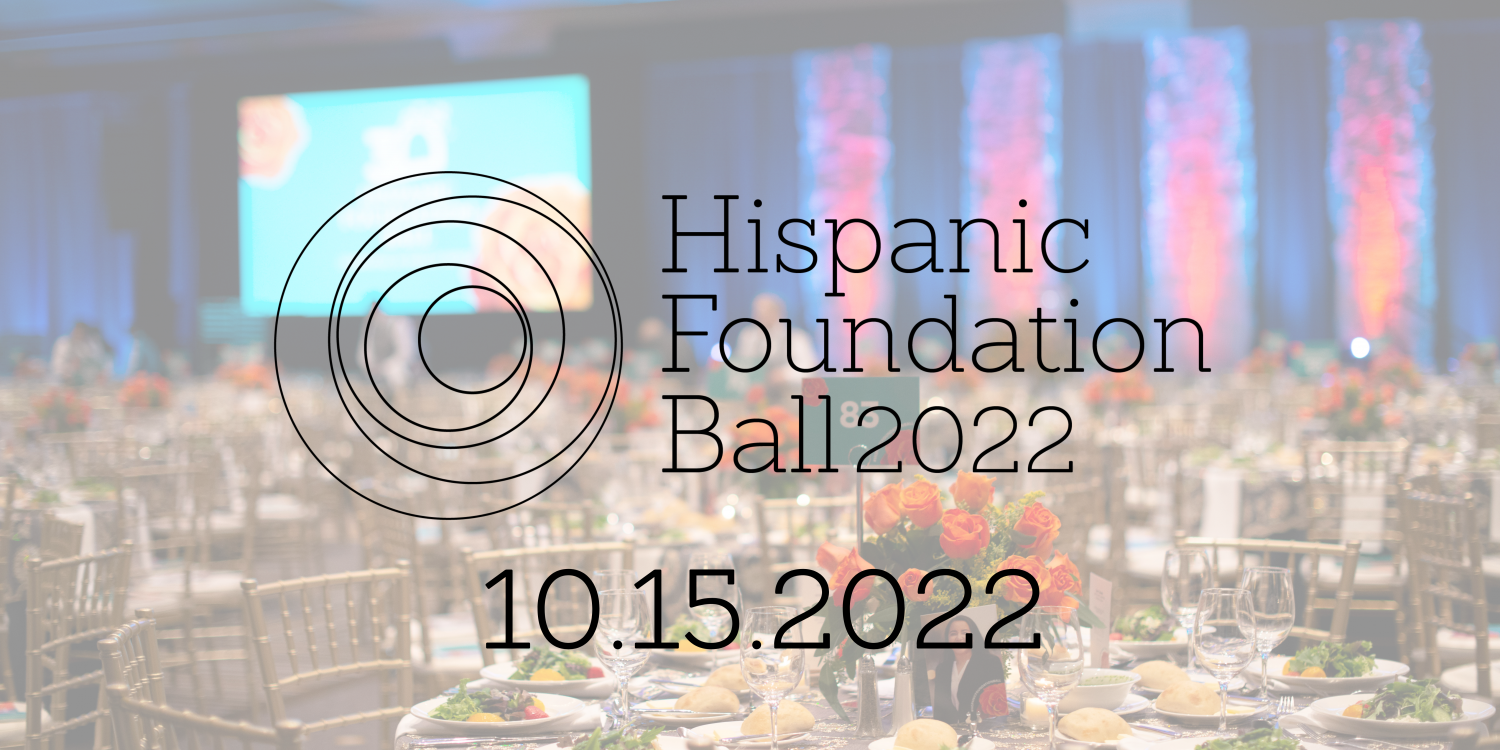 The 33rd annual Hispanic Foundation Ball is less than four months away. We cannot wait to gather in person at the Signia by Hilton Hotel in downtown San Jose to celebrate the successes of the Latino community and the work of the Hispanic Foundation of Silicon Valley. Make your calendars, and join us on Saturday, October 15th, 2022, for the annual Hispanic Foundation Ball.
This month four more sponsors committed their support to the Hispanic Foundation Ball. We are grateful for the support of eBay, Advanced Staffing, DeHaroRamirez Group, and The George and Judy Marcus Family Foundation. Please email Clara Roa at clara@hfsv.org to learn more about becoming an event sponsor.

---
The Hispanic Foundation of Silicon Valley depends on donations from individuals like you. With your involvement, we are addressing the needs of the Latino community, expanding the philanthropic pie, and increasing our charitable impact.
---