Sofia Pando, a 2016 Latinos in Technology Scholarship recipient, graduated from the University of California, Santa Cruz in June of 2018. Today, she is in pursuit of a master's degree in Electrical and Computer Engineering at Carnegie Mellon, determined to graduate in May 2019.
"I am excited to find out what will be in store for me after that," said Pando. Driven to advance her career, Pando aims to excel in the high-tech workforce in Silicon Valley as a Latina Engineer and continues to give back to her community. Pando shares, "While I am proud of how far I have come, the road to get here was not easy. I would not be able to do any of this without the support of my family and my community."
The Hispanic Foundation of Silicon Valley honored Sofia Pando at the 29th Hispanic Foundation Ball where she shared her hardship in a room of 800 guests on Saturday, October 20, 2018. Forasmuch as our guests were moved by Pando, so too was Pando, as she begins her third session instructing a group of young women how to code! The Hispanic Foundation and Girls Who Code, a program partner, is thrilled to offer this program to students at KIPP Prize Preparatory Academy in East San Jose.
In this article, Pando shares more about how she is the captain of her own ship, why she stays involved with the Hispanic Foundation, and what she would tell a girl/woman who seeks to pursue an Electrical Engineering degree.
Raul Ceja (MarComm): What keeps you busy?
Sofia Pando: School and work take up the majority these days. I am back at Intel for my 3rd internship now and am on the design team for a body proximity sensor that will be used in 5G. My schoolwork is project-focused, so I have the opportunity to not only learn new skills but also immediately apply them to projects, which is lots of fun!
Raul Ceja (MarComm): What made you want to stay involved with the Hispanic Foundation of Silicon Valley?
Sofia Pando: When I first started looking at becoming an engineer one observation stood out to me from the beginning; despite the large Hispanic population throughout Silicon Valley, few Latinos are actually working as engineers in the tech industry. This was discouraging at first because I already didn't know anyone that was an engineer and could rarely find examples of engineers that looked like me. The Hispanic Foundation is working to bridge that gap and I want to do all I can to help with that.
Raul Ceja (MarComm): What are you looking forward to with teaching Girls Who Code?
Sofia Pando: My favorite part of being an engineer is having the ability to take an abstract idea, break it down into smaller pieces and then designing and building each piece until it comes together as something tangible that actually works.
Whether it be something fun and silly that solves a minor inconvenience or something that can genuinely improve lives. The joy that comes with completing a project and having something to show for is something I want to be able to share with as many people as possible.
Girls Who Code is all the more special to me because I get to share my passion and knowledge with young girls who may not be able to see themselves going into engineering, or are intimidated by the idea, as I was at that age, and hopefully help them discover their passion in the process.
Raul Ceja (MarComm): What would you tell a girl/woman who wants to pursue an Electrical Engineering degree?
Sofia Pando: Don't sell yourself short!
Early on and even recently, I fell victim to impostor syndrome; that nagging feeling that I was a fraud who didn't actually belong there and only made it this far by getting lucky. As one of the few women in electrical engineering, it was hard to shake that feeling of not belonging but you should never let it stop you or slow you down. Let your passion for the field and the work drive you. You may be met with doubt and skepticism of your intelligence or abilities, use that as motivation and surprise them. Understand where you excel and take advantage of that and take note of where you struggle and spend time developing those areas.
Don't be afraid to ask for help. Most of all work hard and take pride in the work you do, people will take notice and opportunities will follow.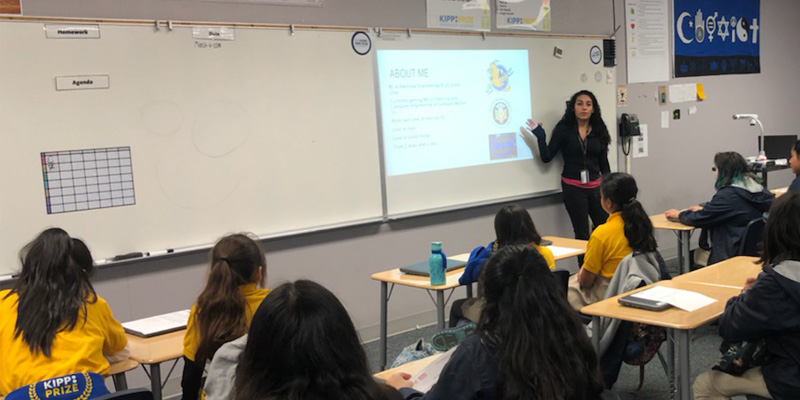 If you would like to know more about our Latinos in Technology initiative: click here!
If you would like to invest in Latinos pursuing a degree and a career in the high-tech workforce: click here!